Government Bond Update- October 2018
| Rates
The upsurge in market volatility dominated headlines in October amid a number of major political and economic developments, and in anticipation of key central bank decisions.
Yields on 10-year Italian and U.S. government debt were among the largest movers during the month, with the former closing nearly 28 basis points higher at 3.42% on October 31. Tense negotiations have persisted between Italy's coalition government and the European Commission over unresolved budgetary plans and economic goals.
In the U.S., the 10-year Treasury mid-yield finished October at 3.16%, up 10 basis points over the previous month end. Minutes released from September's Federal Reserve meeting indicated the central bank's commitment to maintain a steady economy by gradually increasing interest rates.
Conversely, the UK 10-year Gilt yield ended the month 14 basis points lower at 1.44%, having climbed to 1.72% on October 10. Business optimism fell at its fastest pace since the EU referendum, according to the latest quarterly CBI Industrial Trends Survey. Meanwhile, data from the Office for National Statistics showed that consumer price inflation had eased to 2.4% in September from 2.7% in August, below market expectations of a 2.6% rate.
Elsewhere in Europe, the yield on Germany's 10-year Bund declined by just over nine basis points to end October at 0.38%. Chancellor Angela Merkel announced she would not seek re-election as leader of the CDU party, after suffering significant losses in a regional poll. According to Destatis, Germany's annual inflation rate was set to increase to 2.5% in October, a 10-year high.
In Japan, the 10-year JGB mid-yield closed the month at 0.12%. The country's central bank kept monetary policy unchanged and reduced its inflation forecasts citing global trade concerns on October 30. Two weeks earlier, prime minister Shinzo Abe had confirmed he would proceed with raising the consumption tax from 8% to 10% next year.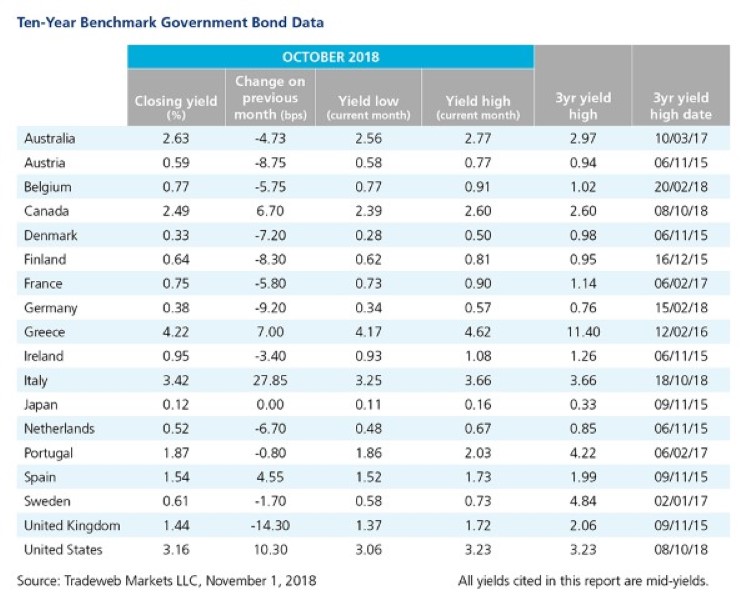 Download
Corresponding
Data Points