Exchange-Traded Funds Update - September 2015
| Tradeweb
The following data is derived from trading activity on the Tradeweb European-listed ETF platform.
ETF total traded volume
Total traded volume on the Tradeweb European-listed ETF platform reached a record-breaking €29.416 billion in the third quarter of 2015, up €4.455 billion from Q2 2015 and €525 million from Q1 2015. Meanwhile, trading activity in September amounted to €8.422 billion.
Volume by ETF asset class
August's buying trend was reversed for commodity and equity-based ETFs in September amid a flow of soft economic data from China and speculation over an interest rate hike in the U.S. Conversely, "buys" in fixed income-based ETFs surpassed "sells" on the platform by one percentage point during the month; overall trading activity in fixed income products beat the 12-month rolling average by three percentage points.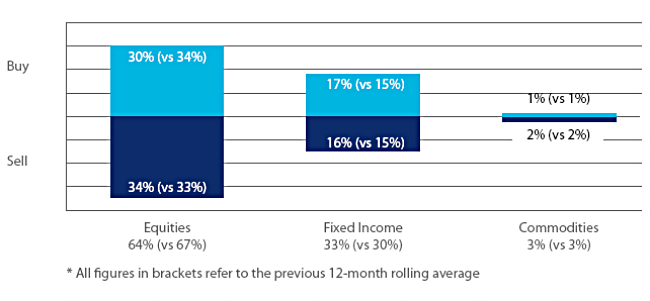 Top ten ETFs by traded volume
A State Street fund tracking the performance of large sized U.S. energy companies in the S&P 500 Index was the most heavily-traded ETF in September. Fixed income instruments were represented in the top ten by two iShares ETFs offering exposure to EUR corporate debt.