Exchange-Traded Funds Update - October 2015
| Tradeweb
The following data is derived from trading activity on the Tradeweb European-listed ETF platform.
ETF total traded volume
October was the third strongest month for the Tradeweb European-listed ETF platform since its launch three years ago. Monthly total traded volume surpassed €10 billion for the fifth time this year, reaching €10.568 billion on October 30.
Other October highlights include the arrival of the 22nd market maker on the platform, as well as the addition of yield and duration metrics for certain fixed income ETF instruments.
Volume by ETF asset class
All ETF asset classes saw net buying in October, with "buys" outstripping "sells" by 12 percentage points in total. The trend was particularly strong in fixed income products, where nearly 63 per cent of trades were "buys". Meanwhile, overall trading activity in equity-based ETFs outperformed the 12-month rolling average by five percentage points.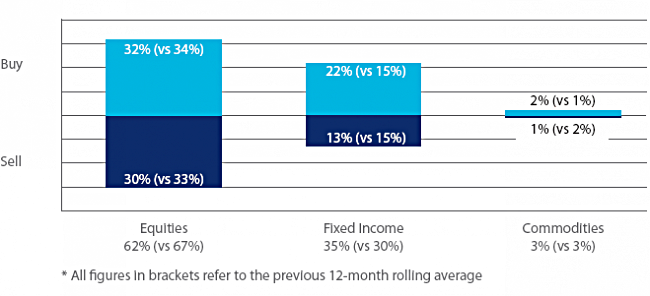 Top ten ETFs by traded volume
There were four fixed income ETFs in October's top ten list by traded volume, including two instruments offering exposure to global emerging markets debt. However, the iShares Euro High Yield Corporate Bond UCITS ETF was ranked first: the fund re-entered the top ten after featuring in tenth place in April 2015.