Exchange-Traded Funds Update - May 2016
| Tradeweb
The following data is derived from trading activity on the Tradeweb European-listed ETF platform.
ETF total traded volume
Total traded volume on the Tradeweb European-listed ETF marketplace surpassed €10 billion for the fifth consecutive month in May. "This was despite reduced market volatility and heightened market concerns over a potential 'Brexit' and a further interest rate hike in the U.S.," says Adriano Pace, managing director for equity derivatives at Tradeweb.
Volume by ETF asset class
Activity in equity-based ETFs increased by two percentage points to 66% against the 12-month rolling average. 'Sells' in the asset class outstripped 'buys' by two percentage points as a proportion of the overall traded volume. Funds investing in the European equity market saw their traded volume reach €2.35 billion, of which 58% was attributed to 'sells'.
In contrast, fixed income and commodity-based ETFs saw net buying during the month. Overall activity in the latter outperformed the 12-month rolling average by three percentage points.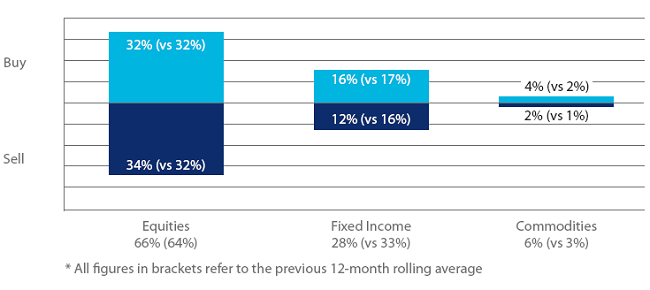 Top ten ETFs by traded volume
May's list of the ten most actively-traded ETFs was dominated by equity-based funds offering exposure to either European or U.S. stocks. The only fixed income product to feature in the top ten was the iShares U.S. Aggregate Bond UCITS ETF, which aims to track the performance of the Barclays U.S. Aggregate Bond Index as closely as possible.