Exchange-Traded Funds Update - June 2016
| Tradeweb
The following data is derived from trading activity on the Tradeweb European-listed ETF platform.
ETF total traded volume
The Tradeweb European-listed ETF marketplace enjoyed a record-breaking second quarter, as total traded volume surpassed €33 billion, beating Q1 2016 by €167 million. June also proved to be the second strongest month on record, with traded notional reaching €11.45 billion. "In a month of net inflows into the wider ETF industry, we saw both new and existing clients increase their activity on our platform," said Adriano Pace, managing director for equity derivatives at Tradeweb.
Pace added that there were now 12 liquidity providers posting approximately 3,500 ETF axes to the platform. "Our axes functionality allows investors to send a request-for-quote to dealers with an offsetting interest in an ETF, and achieve stronger pricing as a result," he said.
Volume by ETF asset class
Equity-based ETFs saw net selling for the second consecutive month. In contrast, 'buys' in commodity and fixed income products outstripped 'sells' by two and three percentage points respectively. Activity in the former increased to 8% as a proportion of the overall traded volume, outperforming the previous 12-month rolling average by five percentage points. Meanwhile, more than €917 million in notional was executed in government bond funds, the most heavily-traded fixed income ETF sector in June, followed by high-yield instruments.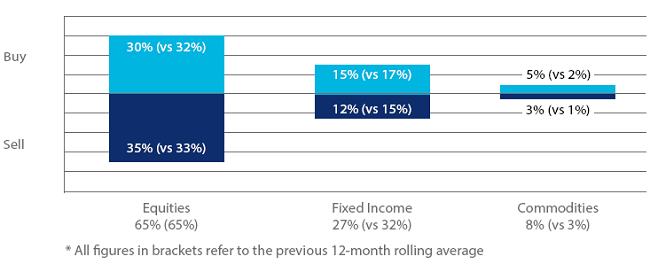 Top ten ETFs by traded volume
There were three funds offering exposure to fixed income assets among June's top ten ETFs by traded volume, with the iShares Euro High Yield Corporate Bond UCITS ETF ranked first. In second place, the db x-trackers MSCI USA Index UCITS ETF was also the most actively-traded product in Q2 2016.