Exchange-Traded Funds Update - July 2016
| Tradeweb
The following data is derived from trading activity on the Tradeweb European-listed ETF platform.
ETF total traded volume
July proved to be another record-breaking month for the Tradeweb European-listed ETF marketplace, which saw activity surpass €10 billion for the seventh consecutive month. Total traded volume reached €12.6 billion, up 9% from April's previous record.
Volume by ETF asset class
There was a clear buying trend across all ETF asset classes during July. 'Buys' in equity-based products outstripped 'sells' by six percentage points. However, overall activity in equity ETFs lagged the previous 12-month rolling average by eight percentage points.
In contrast, the proportion of volume executed in their fixed income counterparts increased to 37%, beating the previous 12-month rolling average by five percentage points. "Fixed income ETFs were particularly active in July," said Adriano Pace, managing director for equity derivatives at Tradeweb. "The asset class saw steady buying throughout the month in instruments covering emerging markets, corporates, high yield and government debt."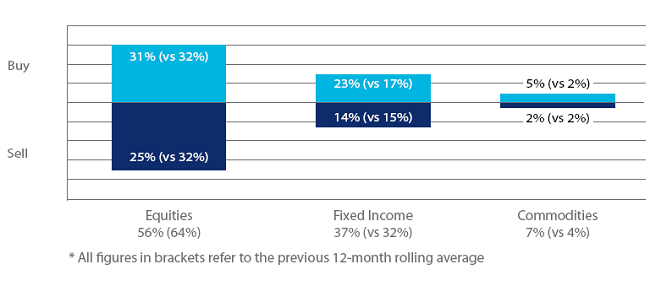 Top ten ETFs by traded volume
July's list of the ten most heavily-traded ETFs was dominated by fixed income instruments, of which four offer exposure to government debt including the top-ranked fund. In second place, the Vanguard S&P 500 UCITS ETF featured in the top ten for the fifth time this year.