Exchange-Traded Funds Update - February 2016
| Tradeweb
The following data is derived from trading activity on the Tradeweb European-listed ETF platform.
ETF total traded volume
February was another strong month for the Tradeweb European ETF marketplace, as total traded volume reached a near record-breaking €11.089 billion. The first half of the month also saw the largest ever risk trade executed on the platform since its launch in October 2012.
Volume by ETF asset class
Overall fixed income ETF activity amounted to an above-average 37% of the entire platform flow, beating the 12-month rolling mean by seven percentage points. "Buys" for commodity-based products increased to 4%, outperforming "sells" by three percentage points. Conversely, equity-based ETFs saw net selling in February with "sells" outstripping "buys" by six percentage points. Overall activity in the asset class was ten percentage points lower than the 12-month rolling average.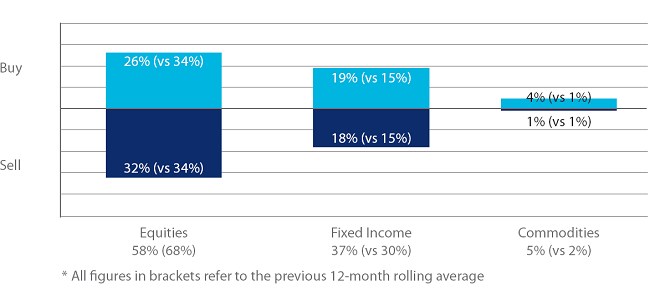 Top ten ETFs by traded volume
February's most heavily-traded fund was the iShares $ Treasury Bond 1-3 UCITS ETF, which aims to track the performance of the Barclays US Treasury 1-3 Year Term Index. In second place, the iShares Euro High Yield Corporate Bond UCITS ETF offers investors exposure to the market of EUR-based non-investment-grade corporate debt.