Exchange-Traded Funds Update - December 2015
| Tradeweb
The following data is derived from trading activity on the Tradeweb European-listed ETF platform.
ETF total traded volume
December proved to be another strong month for the Tradeweb European-listed ETF platform, with total traded volume amounting to €9.18 billion. In the fourth quarter of 2015, trading activity on the platform reached €29.11 billion, only €311 million below the third quarter's record-breaking performance.
During the sell-off that took hold of the markets on December 14, the platform "hit rate" – the percentage of trade enquiries resulting in completed transactions and a demonstration that buy-side clients are receiving strong pricing – remained high at 86%.
Volume by ETF asset class
Both commodity and fixed income ETFs saw net selling in December, with "sells" outstripping "buys" by one and six percentage points respectively. Conversely, "buys" for equity-based ETFs surpassed "sells" by three percentage points.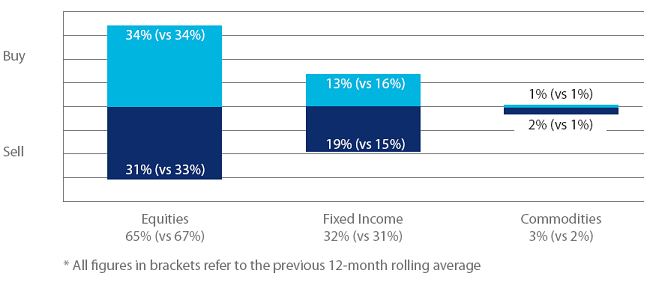 Top ten ETFs by traded volume
In December, trading activity on the platform centred around ETFs tracking either large-cap equity indices, such as the S&P 500, or corporate bond indices. On December 14, trading volume in corporate bond ETFs increased to 60% of overall fixed income flow, while the average fixed income ETF trade size was €5.45 million.
Five fixed income products were among the ten most heavily-traded funds during the month, including three ETFs offering exposure to corporate debt. However, the top spot was occupied by the UBS ETF (CH) - SLI (CHF) A-dis SWX CHF, a fund investing in all the stocks contained in the Swiss Leader index.