Exchange-Traded Funds Update - August 2015
| Tradeweb
The following data is derived from trading activity on the Tradeweb European-listed ETF platform.
ETF total traded volume
August was the second strongest month for the Tradeweb European-listed ETF platform since its launch in 2012. Total traded volume surpassed €10.632 billion, only €65 million below January's record. Even during "Black Monday's" heightened market volatility, activity on the platform exceeded €1 billion, of which approximately 40% was in fixed income-based instruments. The platform "hit rate" – the percentage of trade enquiries resulting in completed transactions and a demonstration that buy-side clients are receiving strong pricing – remained well above 80% on the day.
Volume by ETF asset class
Despite a global sell-off taking hold in the second half of August on China economic slowdown fears, "buys" outstripped "sells" on the platform across all asset classes. Overall trading activity in equity-based ETFs increased to 73%, beating the 12-month rolling average by six percentage points.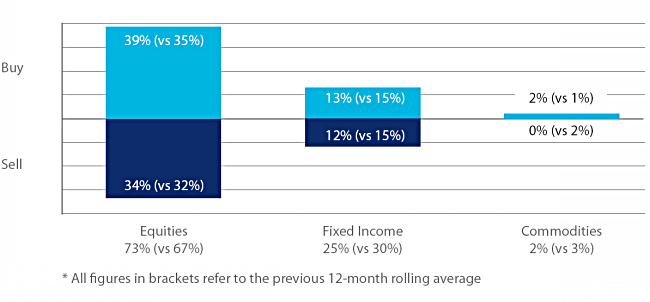 Top ten ETFs by traded volume
Three fixed income vehicles offering exposure to government debt were among the ten most heavily traded ETFs in August. However, the db x-trackers MSCI USA Index UCITS ETF 1C GER EUR was ranked first: the fund seeks to replicate a benchmark measuring the developed market equity performance in the USA on a total return basis with the reinvestment of net dividends.