Exchange-Traded Funds Update - April 2016
| Tradeweb
The following data is derived from trading activity on the Tradeweb European-listed ETF platform.
ETF total traded volume
Notional volume executed on the Tradeweb European-listed ETF marketplace amounted to a record-breaking €11.591 billion in April. The month also proved to be particularly strong for fixed income ETFs, which represented an above average 37% of the total platform activity.
Volume by ETF asset class
All ETF asset classes saw net buying during the month, with "buys" outstripping "sells" by 12 percentage points. Overall activity in equity-based products underperformed the 12-month rolling average by five percentage points. Conversely, demand for commodity and fixed income ETFs beat the 12-month rolling average by one and four percentage points respectively. Corporate bond ETFs saw their traded volume surpass €800 million, of which 71% was attributed to "buys".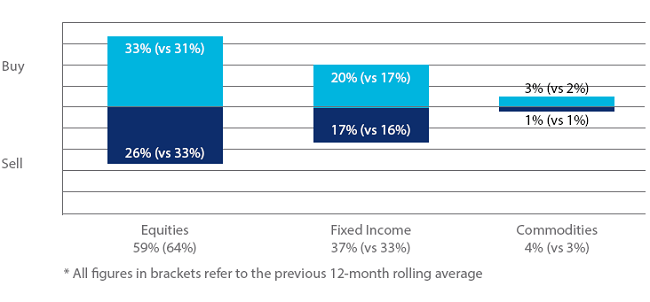 Top ten ETFs by traded volume
April's five most-heavily traded ETFs track fixed income indices, with the iShares $ Treasury Bond 1-3yr UCITS ETF ranked first. The fund offers investors exposure to the performance of the short-dated maturity segment of the US government bond market.