European Exchange-Traded Funds Update - October 2016
| Tradeweb
The following data is derived from trading activity on the Tradeweb European-listed ETF platform.
ETF total traded volume
Total traded volume on the Tradeweb European-listed ETF marketplace exceeded €8.5 billion in October, while the number of executed trades increased by 41% year on year and by 10% month on month. The number of clients trading was also up by 9% compared to September.
Volume by ETF asset class
There was a clear buying trend in equity-based ETFs in October, with "buys" outstripping "sells" by 14 percentage points. 'Sells' in fixed income ETFs narrowly surpassed 'buys' by two percentage points; the asset class saw overall notional volume drop to 30% against a 12-month rolling average of 34%. Meanwhile, activity in commodity-based ETFs rose to 10% of the total traded volume, beating the previous 12-month rolling average by five percentage points.
Adriano Pace, managing director for equity derivatives at Tradeweb, said, "Equity Europe was the most heavily-traded ETF sector for a consecutive month, closely followed by Equity Emerging Markets. October also saw the 'buy' bias in commodity ETFs reverse, while Government Bond ETFs proved to be the most popular among fixed income sectors."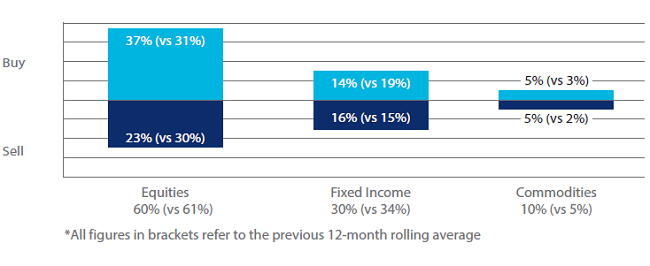 Top ten ETFs by traded volume
October's top ten ETF list featured two instruments tracking the performance of precious metals and specifically gold, with the Source Physical Gold P ETC Certs ETC ranked second. However, the top spot was held by the iShares Core S&P 500 UCITS ETF, which offers diversified exposure to US large-cap stocks.