European Exchange-Traded Funds Update - January 2017
| Tradeweb
The following data is derived from trading activity on the Tradeweb European-listed ETF platform.
ETF total traded volume
The Tradeweb European-listed ETF platform enjoyed a record-breaking start to 2017. January's total traded volume surpassed €15.3 billion, up €127 million from November 2016, the previous strongest month. Adriano Pace, managing director for equity derivatives at Tradeweb, said, "It's a great way to start the new year, especially following an extremely strong fourth quarter in 2016 and the accelerating growth of our sister platform in the US. With MiFID II implementation less than a year away, we expect the electronic portion of the OTC dealer-to-client market for ETFs to increase even more, as market participants take advantage of the inherent benefits electronic trading platforms like ours have to offer."
Volume by ETF asset class
All ETF asset classes saw net 'buying' in January, particularly equities. As a proportion of the total traded volume, 'buys' in equity-based ETFs outperformed 'sells' by 12 percentage points. However, overall activity in the asset class dropped to 60%, two percentage points below the previous 12-month rolling average. Europe Equity proved to be the most popular category for the second consecutive month, with nearly €3.2 billion in notional.
Meanwhile, activity in fixed income ETFs beat the previous 12-month rolling average by three percentage points. 'Buys' in the asset class outstripped 'sells' by five percentage points, as a proportion of the entire platform flow. Government Bonds and Corporate Bonds were the most heavily-traded fixed income categories during the month.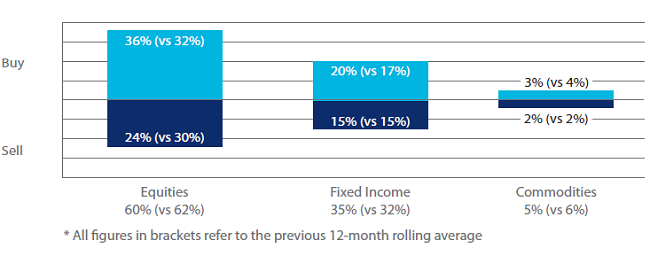 Top ten ETFs by traded volume
Fixed income products dominated January's top ten ETF list, with the iShares US Aggregate Bond UCITS ETF ranked first. The fund aims to track the performance of the Barclays US Aggregate Bond Index, which offers exposure to USD-denominated investment grade fixed rate bonds.