European Exchange-Traded Funds Update - February 2017
| Tradeweb
The following data is derived from trading activity on the Tradeweb European-listed ETF platform.
ETF total traded volume
February proved to be another strong month for the Tradeweb European ETF marketplace, which now boasts 28 liquidity providers. Total traded volume reached €12.06 billion, while the average daily volume exceeded €600 million. Adriano Pace, managing director for equity derivatives at Tradeweb, said: "Platform metrics remained very healthy despite the shorter month, as the number of active clients and individual trades both increased by 7%."
Pace added: "Trade automation also gained momentum last month. We saw 8% of transactions in European-listed ETFs executed via OMSX, a rules-based trading tool that enables clients to set parameters dictating how orders are directed and executed without requiring access to the Tradeweb Viewer. Thanks to OMSX, buy-side execution desks are allowed more time to concentrate on more complex, value-added business."
Volume by ETF asset class
As a proportion of the overall traded volume, monthly activity in fixed income ETFs surpassed 40% for the third time in the platform's history after March and September 2016. 'Buys' in the asset class outperformed 'sells' by nine percentage points, with only convertible and inflation-linked bonds bucking the trend. More than €1.78 billion in notional was executed in government bond ETFs, the most heavily-traded category in February, closely followed by European equity instruments with €1.74 billion in traded notional.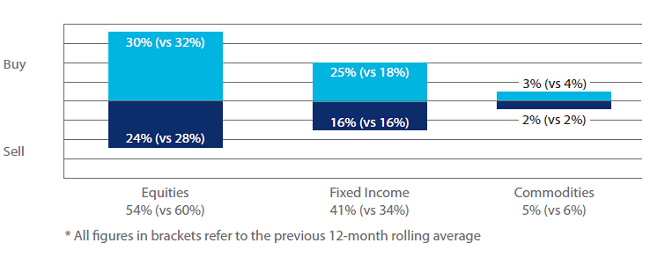 Top ten ETFs by traded volume
There were seven products offering exposure to fixed income assets among February's most actively-traded ETFs. The PIMCO Euro Short Maturity Source UCITS ETF was ranked first, after occupying the seventh spot in January's top ten list.