European Exchange-Traded Funds Update - August 2017
| Tradeweb
The following data is derived from trading activity on the Tradeweb European-listed ETF platform.
ETF total traded volume
Notional volume executed on the Tradeweb European-listed ETF marketplace was just shy of €11.8 billion in August. The month also saw the addition of the 19th dealer posting axes to the platform. Adriano Pace, managing director for equity derivatives at Tradeweb, said: "More than 11,000 live ETF axes are provided daily to Tradeweb by a constantly growing number of market makers. The Tradeweb axes functionality enables traders to select the most relevant dealers to put into competition for each trade, not only improving access to liquidity, but also resulting in meaningful pricing improvement."
ETF volume breakdown
Fixed income was the only ETF asset class to see net buying during the month, with 'buys' outstripping 'sells' by six percentage points. Activity in equity-based instruments amounted to 64% of the entire platform flow, beating the previous 12-month rolling average by four percentage points. Meanwhile, 'buys' in commodity ETFs mirrored 'sells', each at 4% as a proportion of the overall traded volume.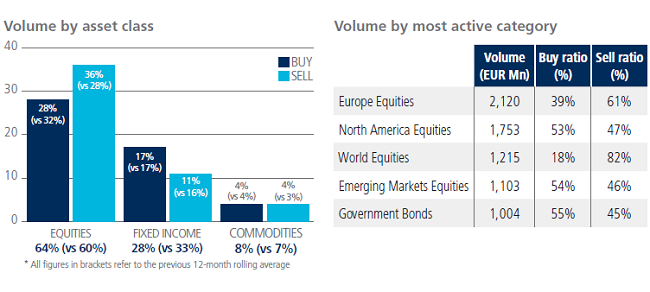 Top ten ETFs by traded volume
August's list of the ten most heavily-traded ETFs mainly comprised equity products, with the db x-trackers MSCI World Index UCITS ETF ranked first. The fund tracks the performance of the MSCI Total Return Net World Index, which aims to represent 85% of the readily available shares in each industry sector in 23 developed countries.