European Exchange-Traded Funds Update - April 2018
| Tradeweb
The following data is derived from trading activity on the Tradeweb European-listed ETF platform.
ETF total traded volume
Activity on the Tradeweb European-listed ETF marketplace remained strong in April. Total traded volume reached €16.7 billion, while 36.6% of transactions were processed via Tradeweb's Automated Intelligent Execution tool (AiEX). The proportion of trade enquiries resulting in completed transactions remained high at 94%, a demonstration that institutional clients are receiving strong pricing.
ETF volume breakdown
All ETF asset classes saw net buying in April. Equity-based products accounted for 67% of the total platform flow, while activity in commodity ETFs also increased to 6%, as a proportion of the overall traded volume. Europe Equities narrowly beat its North America counterpart to emerge as the month's most heavily-traded ETF category.
Adriano Pace, managing director for equity derivatives at Tradeweb, said: "Against a backdrop of solid earnings results and higher oil prices, April saw the return of the equity ETF buyer, reversing the sell-off that took hold of the market in the two preceding months."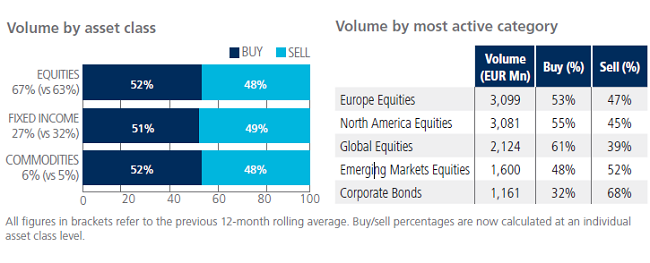 Top ten ETFs by traded volume
The Xtrackers MSCI World Swap UCITS ETF was the most actively-traded fund on the platform for the third consecutive month. In second place, the PIMCO Euro Short Maturity Source UCITS ETF returned to the top ten after last holding the top spot in December 2017.