Data Points: Government Bond Update - November 2014
| Tradeweb
Key Points:
ECB officials hint at more aggressive stimulus
Eurozone bond yields drop to record lows
Japanese PM calls early election and delays tax hike
Russian rouble suffers from oil price drop
November saw the release of mixed economic data and the decline in indicative borrowing costs to record low levels for several eurozone countries. Third-quarter GDP figures showed increases of 0.7% in Greece and 0.5% in Spain; the Italian economy, however, contracted by 0.1%. Senior ECB officials hinted at more aggressive stimulus measures in early 2015 – potentially including the purchase of government bonds – as inflation in the region slipped to a five-year low of 0.3%. A subsequent rally in eurozone government debt drove bond yields to fresh lows at month-end, sending Italy's 10-year mid-yield to 2.04%, down 34 basis points from October 31. Similarly, the mid-yield on Spain's government bond dropped 20 basis points over the month, after closing below 2% for the first time on November 24.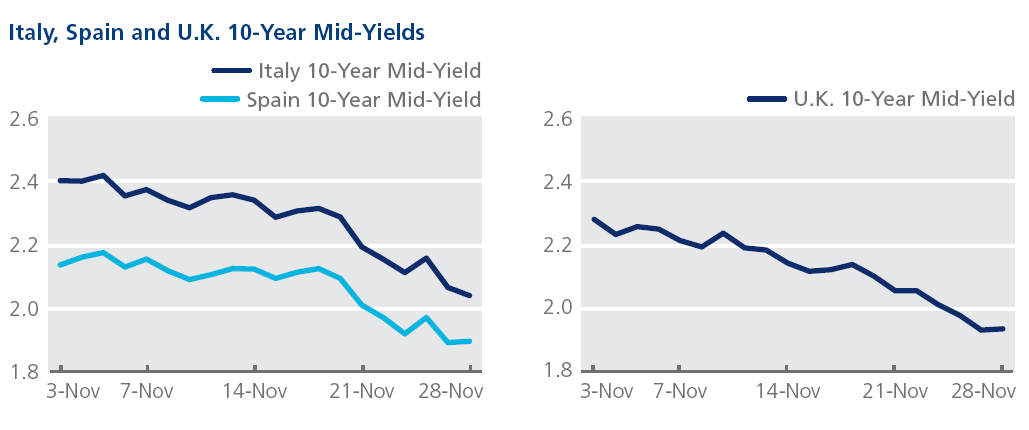 Elsewhere in Europe, the U.K. economy grew by 0.7% in Q3, while inflation picked up slightly to 1.3%. The yield on the 10-year gilt reached its lowest level since May 27 2013 at 1.93% on November 27. Across the Atlantic, U.S. Q3 GDP growth was revised upwards to 3.9% on an annualized basis, while the Canadian economy expanded by 0.7%. The 10-year Treasury mid-yield fell 14 basis points during the month, closing at 2.19% on November 28. Canada's 10-year bond mid-yield ended the month at 1.85%, its lowest point since May 9 2013.

Meanwhile, Japan's economy was revealed to have shrunk by a further 0.4% in Q3, following a 1.8% contraction in Q2. Prime minister Shinzo Abe called a December election to secure support for his decision to delay a sales tax rise scheduled for 2015. After climbing to 0.52% on November 12, an increase of six basis points from October 31, Japan's 10-year government bond mid-yield closed the month lower at 0.42%.

In emerging markets, sliding oil prices took their toll on the Russian rouble after the Organization of the Petroleum Exporting Countries (OPEC) failed to agree on production cuts. The yield on Russia's 4.875% 09/23 government bond rose by 63 basis points over the month, closing at 5.43%. Neighboring Ukraine's bond yields also suffered in November, with those for its 7.5% 04/23 bond jumping to 12.89% on November 28, an increase of 272 basis points from the previous month-end.