Data Points: Government Bond Update - July 2013
| Tradeweb
Key Points:
10-year U.S. Treasury yields climb to 2.74%, highest levels since August 2011
Volatility in Portuguese debt increases amid challenging political environment
Greek debt rallies as bailout efforts continue
July was a relatively volatile month for U.S. Treasuries. Investors witnessed the yield on the 10-year note climb to intraday high of 2.74% on July 5, which followed a strong jobs report that raised concern about the Federal Reserve possibly pulling back on its bond-buying program. However, investor sentiment calmed through the middle of the month and the ten-year rallied to 2.49%. Bond yields climbed back up to close the month at 2.59% on July 31, after the U.S. announced a reduction in bond sales over the coming months.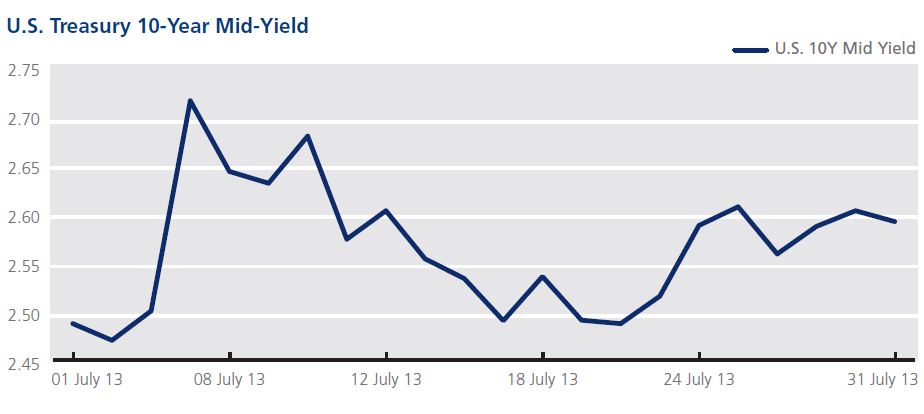 The Eurozone also saw some volatility, chiefly in Portugal, where yields on the ten-year bond increased 86 basis points to 7.18% on July 4 amid a crisis of confidence in the central-right government. Portuguese debt rallied back to 6.62% five days later, after the governing coalition announced an agreement. However, yields rose sharply again on July 12 to reach a high for the month of 7.41%, possibly tied to news of Lisbon delaying creditor reviews of its bailout during the political crisis. Portuguese debt did stabilize toward the end of the month, closing out July at 6.33%, alongside news that the ruling coalition would remain in place through the end of its term.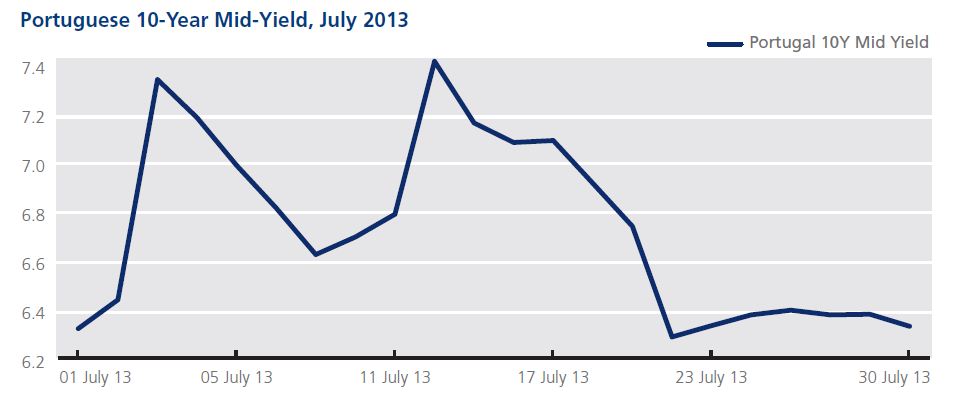 Greek yields returned to a downward trend in July, dropping 85 basis points to close the month at 9.93%. Investors saw the peripheral country's debt begin to rally early in the month, alongside news of an additional €4.8 billion secured as the next tranche in its bailout by the EU, though yields are still off annual lows of 8.03% on May 20.
Greek yields returned to a downward trend in July, dropping 85 basis points to close the month at 9.93%.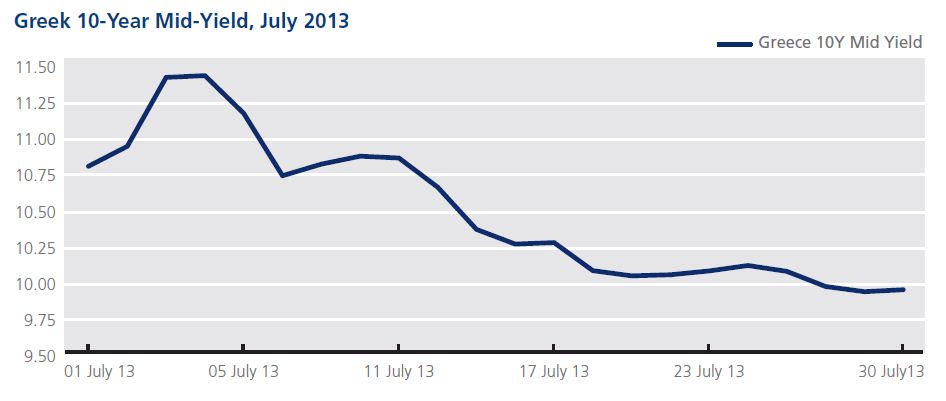 Meanwhile, debt for core Eurozone countries rallied in the first half of July. For example, German 10-year yields fell 21 basis points from 1.72% on July 1 to 1.51% by the 18th. However, yields climbed back up toward the end of the month to close July at 1.67%.