Data Points - ETF Update - March 2019
| Equities
The following data is derived from trading activity on the Tradeweb Markets institutional European- and U.S.-listed ETF platforms.
EUROPEAN-LISTED ETFs
Total traded volume
Activity on the Tradeweb European ETF marketplace reached EUR 25.2 billion in March, while the proportion of transactions processed via Tradeweb's Automated Intelligent Execution (AiEX) tool exceeded 48%, a new monthly record. Adriano Pace, head of equities (Europe) at Tradeweb, said: "March marked the platform's fourth best performance since launch in late 2012. The first quarter of the year also proved to be record-breaking, with total traded volume just shy of EUR 83 billion, up EUR 10.5 billion from Q4 2018."
Volume breakdown
Fixed income ETFs saw net buying during the month, with 'buys' outstripping 'sells' by 22 percentage points. Overall activity in the asset class beat the previous 12-month rolling average by two percentage points. North America and Europe Equities were once again the most active ETF categories with a combined traded notional of nearly EUR 9.9 billion.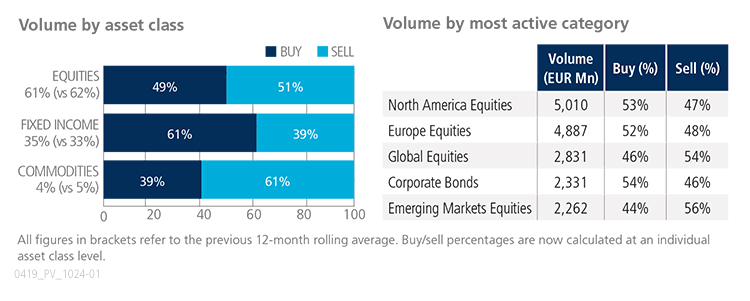 Top ten by traded notional volume
Equity-based products dominated the list of most heavily-traded ETFs in March. The iShares Core S&P 500 UCITS ETF held on to the top spot for the second consecutive month.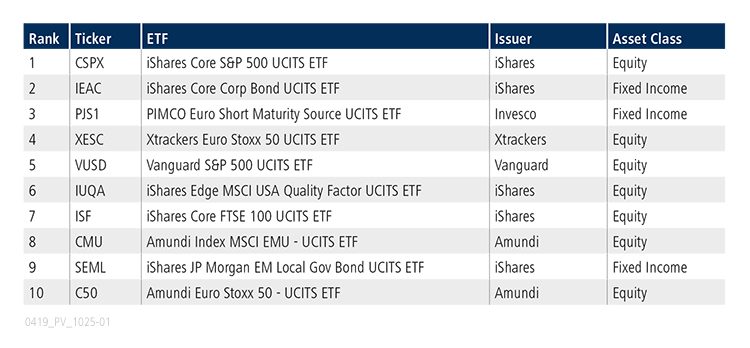 U.S.-LISTED ETFs
Total traded volume
Total consolidated U.S. ETF notional value traded in March 2019 was USD 9.24 billion.
Volume breakdown
As a percentage of total notional value, equities accounted for 55.6% and fixed income for 40.0%, with the remainder comprised of commodity and specialty ETFs.


Adam Gould, head of U.S. equities at Tradeweb, said: "While March was relatively high on macroeconomic news, volatility continued to remain in check. As the 2019 dovish sentiment from the Federal Reserve has continued to soak into market consciousness, our customers have continued to position accordingly. The sheer mix of asset classes and client types trading on the U.S. ETF platform underscores the broad scope of ETF usage and ability for the platform to meet customer trading needs."
Top ten by traded notional volume
During the month, 494 unique tickers traded on Tradeweb's U.S. ETF platform. While they reflect a broad mix of interests, it's worth noting the entry of iShares MUB into this month's mix, ahead of tax filing deadlines.