Data Points - ETF Update - January 2019
| Equities
The following data is derived from trading activity on the Tradeweb Markets institutional European- and U.S.-listed ETF platforms.
EUROPEAN-LISTED ETFs
Total traded volume
The Tradeweb European ETF marketplace enjoyed a record-breaking start to the year, as January's total traded volume reached EUR 28.2 billion, up 9% from the platform's previous best performance in October 2018. The proportion of European ETF transactions processed via Tradeweb's Automated Intelligent Execution functionality (AiEX) rose to 44.9%.
Adriano Pace, head of equities (Europe) at Tradeweb, said: "A year on from the implementation of MiFID II in Europe, we have witnessed market participants become increasingly comfortable not just with trading ETFs on electronic marketplaces such as Tradeweb, but also with adopting automated workflows to conduct their business. This is not surprising given the introduction of transparency requirements for ETFs last year, and the heightened focus on proving Best Execution."
Volume breakdown
Equity ETFs saw net selling for the second consecutive month. Conversely, their fixed income counterparts were strongly bought in January, with 'buys' surpassing 'sells' by 24 percentage points. Activity in the asset class increased to 39% of the entire platform flow.
North America and Europe Equities were the most heavily-traded categories during the month, accounting for 37% of the overall activity in European-listed ETFs on Tradeweb.





Top ten by traded notional volume
There were seven fixed income products among January's top ten list by traded volume. In first place, the PIMCO Euro Short Maturity Source UCITS ETF invests in USD-denominated, investment grade fixed income securities, including government bonds, corporate debt and mortgage or other asset-backed securities. The fund last featured in the top spot in December 2017.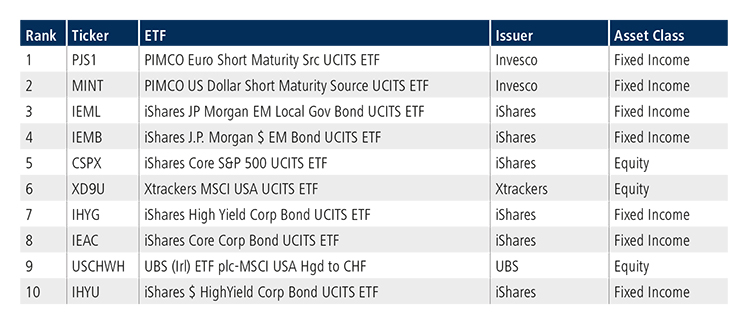 U.S.-LISTED ETFs
Total traded volume
Total consolidated U.S. ETF notional value traded in January 2019 was USD 11 billion.
Volume breakdown
As a percentage of total notional value, equities accounted for 48.2% and fixed income for 45.4%, with the remainder comprised of commodity and specialty ETFs.




Adam Gould, Head of U.S. Equities at Tradeweb, said: "The balance of fixed income ETF trading on Tradeweb increased substantially in January – up to 45.4% of volume, vs. 29.3% the month prior. That was likely driven in part by a change in the overall market expectations for the Federal Reserve's plan to raise rates at a much slower pace, if at all in 2019. With the consensus for rate hikes changing, many fixed income money managers reallocated their bond ETF positions accordingly."
Top ten by traded notional volume
During the month, 582 unique tickers traded on Tradeweb's U.S. ETF platform. Market interest in bond ETFs was reflected in the top tickers – for the first time, fixed income ETFs crowded our top ten ranking.