Data Points - ETF Update - April 2019
| Equities
The following data is derived from trading activity on the Tradeweb Markets institutional European- and U.S.-listed ETF platforms.
EUROPEAN-LISTED ETFs


Total traded volume
April proved to be the third strongest month on record for the Tradeweb European ETF marketplace, with total traded volume amounting to EUR 26 billion. Meanwhile, half of transactions in European-listed ETFs were processed via AiEX, Tradeweb's Automated Intelligent Execution tool.
Adriano Pace, head of equities (Europe) at Tradeweb, said: "Adoption of automated trading continues to rise, thanks to new features such as our time release functionality, which helps clients pre-plan and set up trade execution timings to suit their specific needs. Ultimately, AiEX delivers workflow optimization and improved efficiency for trading desks, helping them to reduce costs and operational risk."
Volume breakdown
'Buys' nearly mirrored 'sells' in equity and commodity-based ETFs during the month. In contrast, 'buys' in fixed income ETFs outstripped 'sells' by 14 percentage points. Activity in the asset class increased to 39% of the overall platform flow, beating the previous 12-month rolling average by six percentage points. More than EUR 4.9 billion in notional was executed in European equity ETFs, April's most heavily-traded category.


Top ten by traded notional volume
There were six fixed income products among April's ten most actively-traded ETFs, with the iShares J.P. Morgan EM Local Government Bond UCITS ranked first. The fund, which tracks the J. P. Morgan GBI - EM Global Diversified 10% Cap 1% Floor index, last occupied the top spot in November 2018.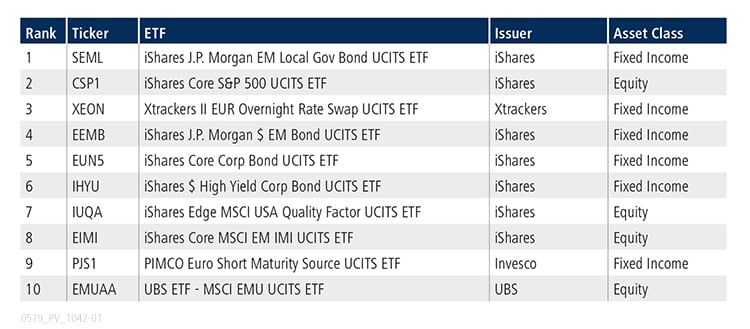 U.S.-LISTED ETFs

Total traded volume
Total consolidated U.S. ETF notional value traded in April 2019 was USD 9.27 billion.
Volume breakdown
As a percentage of total notional value, equities accounted for 72% and fixed income for 25%, with the remainder comprised of commodity and specialty ETFs.


Adam Gould, head of U.S. equities at Tradeweb, said: "Despite the continued April trend of low volumes and lower volatility, activity on Tradeweb continued to grow, up 34% year over year. With average block trade sizes close to USD 10 million, it's clear that the value of Tradeweb's RFQ functionality is increasing for clients who trade ETFs at varying size."
Top ten by traded notional volume
During the month, 470 unique tickers traded on Tradeweb's U.S. ETF platform, with the first two funds coming from the same J.P. Morgan group of products.