A Revolution in Primary Market Data: Q&A
| Data

Markets function better when data about their component parts is properly connected, verified, and distributed. A fresh approach to bundling data for new issues will deliver smooth, transparent transactions in the European credit primary market for the first time.


Tradeweb has partnered with Euroclear and Informa Global Markets (IGM) on a joint service to help clients gain clarity on new issue data. It will allow them to receive real-time updated deal terms, including earlier delivery of the ISIN (International Securities Identification Number) – saving time, reducing workload, reducing errors and increasing transparency. Information can be fed either directly to clients' systems or to broker and trader order management systems (OMSs). We asked the partners to explain why this new solution represents such a significant step forward for debt issuance.
Q: What's prompted you to look at the new issues market?
Chioma Okoye, Tradeweb: The electronification of fixed income markets is a long-running trend. Automated information management allows buy-side and sell-side to see in their own systems everything they need to manage fixed income products, trading and markets. It's helped them save time, mitigate risk, and improve transparency.
Yet the process has been uneven, and in primary markets, workflows remain defined by manual and lengthy processes that can be prone to error. We regularly hear from clients of the pain points when it comes to processing new issues. At a time when traders are being urged to do more with less – leaner teams, less time, and lower risk – the problem has become acute.
Q: Why is it so important to have three businesses' expertise?
Terry Wilby, IGM: IGM enjoys a position of trust, having operated at the heart of the capital markets industry for over three decades. During this time, we have strived to maintain a regular, dependable, genuinely useful flow of transactional coverage to practitioners, whether they're selling or buying new issue corporate bonds. Right now, we're in an era of increasing data dependency mixed with a desire to automate many time-heavy and error-prone processes. Aligning IGM data with Tradeweb's client connectivity and Euroclear's identifier workflows offers all market participants a huge benefit.
Philippe Laurensy, Euroclear: Whenever an entity wants to issue a new bond, we're the first port of call so that an ISIN can be assigned. Through this solution, we will address a critical issue for primary market investors around the need for quicker access to reliable new issue deal information for Eurobonds. As a financial market infrastructure provider, our role is to bring efficiencies, connectivity and safety to the market value chain from issuers to investors through innovative and sustainable solutions.
Chioma Okoye, Tradeweb: Tradeweb had been able to build relationships with thousands of clients using hundreds of different OMSs in the secondary market. The new approach with Euroclear and IGM will improve the way investors access and manage critical pre-pricing data for newly syndicated Eurobonds, too, facilitating further automation of primary markets and streamlining the transition into secondary trading.
Q: What will the new service solve for?
Chioma Okoye, Tradeweb: Clients have been telling us for some time that participating in new deals can be challenging, especially when buyers are receiving large volumes of unstructured data during busy markets. This new service will allow syndicated Eurobond new issues to be set up in a systematic and efficient manner that virtually eliminates mistakes and delays.
Aaron McNulty, Euroclear: When the buy-side is aware there's a new issue in the pipeline, they create holding data for their own systems – using whatever information they can get their hands on, even to the point of logging a dummy ISIN. But that affects many systems – including custody, settlement, risk, analytics – not just one, so it's hard to keep track of that data when it needs to be updated.
Chioma Okoye, Tradeweb: Missing or poorly formatted information means market participants can't satisfy data requirements to book trades, which can result in compliance issues, too.
Q: What's the new approach?
Aaron McNulty, Euroclear: Simply put, it's a turnkey solution taking us from these fragmented processes to a smooth flow of joined-up and transparent information. It's a compelling solution.
Chioma Okoye, Tradeweb: By creating automated, straight-through co-ordination of each of the three companies' capabilities in a single solution, buy-side clients will have access to trusted, reliable, accurate and timely information on new bonds. That should give the buyside more confidence in their activity and positions.
Terry Wilby, IGM: We support that in two areas. First, offering quality and articulation of self-sourced data, with no down-time ever. Expectations for data speed, quality, breadth and accessibility have increased exponentially in the last five years. IGM's partnership with Tradeweb and Euroclear will help us live up to those high standards. Second, ease of integration and continuous innovation.
Chioma Okoye, Tradeweb: Thanks to Euroclear and IGM, the information describing the new issue, the security identifiers, and the deal data will become available through Tradeweb at a much earlier stage in the process – and on a real-time basis, as a newly-issued Eurobond is marketed and priced. That collated "data shell" can be deployed directly or via Tradeweb's existing integrations with over 480 OMSs and 2,500 clients. It's designed to populate in-house systems – whether they demand completion of 50 critical fields or just half a dozen.
Q: How will the new solution work?
Chioma Okoye, Tradeweb: The heart of the new approach is an API that will allow for automatic population of data into the various buy-side systems. Crucially, updated information is added to the consolidated package in real-time, minimising the risk of missing codes, data or up-to-date pricing.
The process works as follows:
As a new bond is issued, Tradeweb will collect data from Euroclear and IGM on a real-time basis.
The data describing the new issue, alongside the ISIN, will be collated, interpreted and made available as a "data shell".
Clients and other participants will have the ability to consume the data shell directly via API, to automate their new issue process. Tradeweb can also work with the client and their OMS to deliver the data shell via their OMS.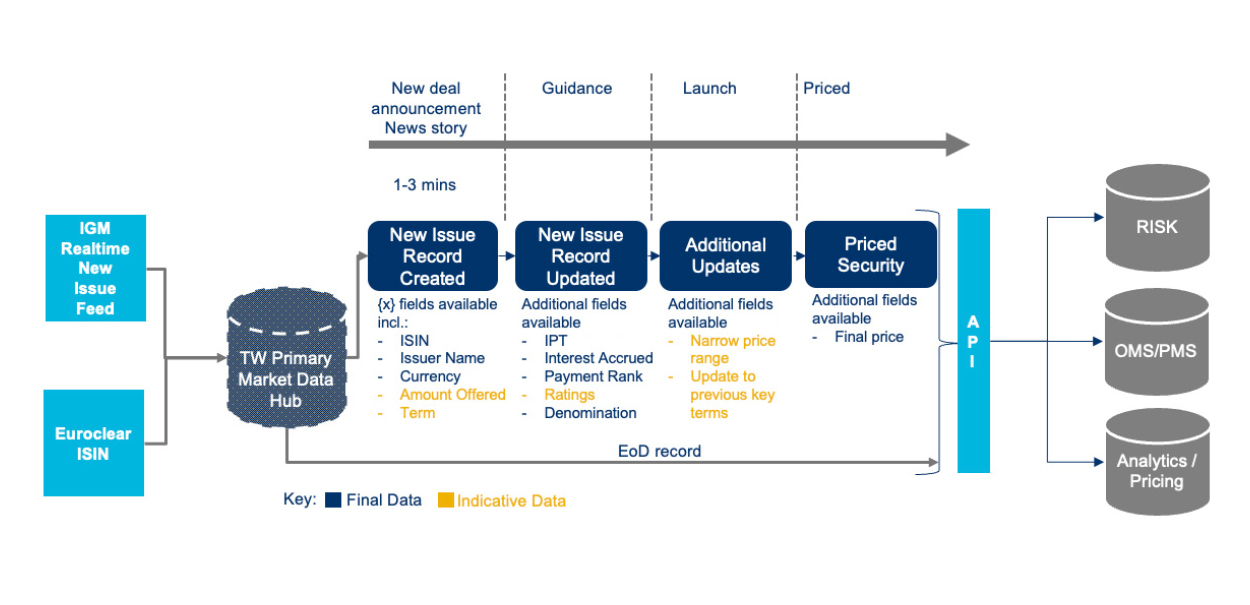 Q: What are the benefits to the buy-side?
Aaron McNulty, Euroclear: The big impact here is bringing a smoother process for distribution of bonds in the primary market – and that will massively speed up the go-to-market time for secondary market trading. If we get a smoother process for the buy-side, their back office has more time to focus on other things; and means the intermediaries, the custodians of the buy-side clients, get reassurance that trades will happen as expected, saving them time and stress.
Chioma Okoye, Tradeweb: It boils down to simplicity and certainty. Instead of hunting around for the right information and manual confirmation of any changes, participants will be able to one-touch the process; the "data shell" is an always-reliable 'single version of the truth'. That's more efficient, faster, and offers much better risk management.
Once a new issue is announced, it typically prices by the end of the trading day. We know that every hour counts, so giving the buy-side access to reliable reference data, such as the ISIN, on average eight hours earlier in the process makes a huge difference – not just in terms of agility and efficiency, but also ensuring that decision-makers are operating with reliable, real-time information.
Q: What happens next?
Terry Wilby, IGM: The ability to offer a high velocity, low friction solution providing first-class data sets with minimal investment of time and effort will differentiate services such as IGM in the next few years. We have a programme of investment in systems and database architecture, supporting our goal of becoming a true utility for the global capital markets, integrated in applications and workflows, linking front and back offices globally. This pathway will ensure IGM has the ability to respond quickly, with our partners, to all new opportunities and demands in the rapidly evolving environment in which we all operate.
Chioma Okoye, Tradeweb: We've been piloting the system with early adopters, ahead of a full roll-out. This test-and-learn process has been invaluable for understanding how data from different entities, often with different taxonomies, can be automatically populated into the data shell. Collaboration with our partners over this pilot phase has enabled us to iteratively improve the solution and has highlighted just how valuable the tri-party combination is.
Aaron McNulty, Euroclear: We've been fielding a lot of questions from our partners on our underlying dataset to deliver this solution, and that's been instructive on the role we play in the market infrastructure, as well as helping us optimise the service. It's also shown us how joining up our expertise is more than just a collaboration of existing capabilities; it comes together to be more than the sum of the parts. That's shown us the potential for developments in other areas, too.
Chioma Okoye, Tradeweb: The direction of travel is clear. The primary market for credit is long overdue greater levels of efficiency and reliability – and our progress with this new approach has been extremely encouraging. We think the simplicity and transparency this new issue security set-up solution delivers marks a significant step forward and we're excited about the impact it will have. The three parties have all brought unique experience and expertise to the solution and we're excited about future developments. Watch this space!
About Our Contributors
Aaron McNulty is a Product Manager for Euroclear where he is responsible for guiding the firm's Reference Data Business, including services which leverage the high-quality and timely reference data sourced from Euroclear group Financial Market Infrastructures (FMIs). The Euroclear group is made up of Euroclear Bank, Euroclear Belgium, Euroclear France, Euroclear Nederland, Euroclear Finland, Euroclear Sweden and Euroclear UK & International.
Chioma Okoye is a Managing Director, Corporate Development – Europe & Asia at Tradeweb. She is responsible for identifying opportunities to grow the Tradeweb business and executing key business growth strategies across the firm's divisions. She is also a member of Tradeweb's Women's Network and Diversity & Inclusion Committee.
Philippe Laurensy is a Managing Director and Head of Group Strategy, Product Management, and Innovation for the Euroclear group. He is also a member of the Euroclear Extended Management Committee and serves as a Non-Executive Director for MFEX and Greenomy.
Terry Wilby is Managing Director, IGM at Informa Connect. He rejoined IGM in 2013 to lead content strategy. The last 10 years have been spent repositioning the business as a globally recognised leader in rates, FX and primary corporate bond coverage, including the collection, collation and distribution of time-sensitive data points across global investment grade, high yield and structured product markets. Terry leads the business within the Global Finance vertical of Informa's Connect division, based in London.




Related Content
The Quest to Harmonize Primary Market Connectivity