Markets Media: Outlook 2019: Billy Hult, Tradeweb
| Tradeweb Markets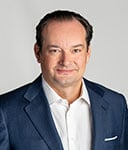 Billy Hult
Chief Executive Officer, Tradeweb Markets
Billy Hult sits down with Markets Media to discuss the future of fintech.

How should the new year be known?
For the first time in a decade, we are starting the year with rate raises and a slackening of central bank asset purchasing. Ironically, this 'normalization' presents real change. The next year will be about how that plays out, and for us and our customers, how fixed income desks adjust their workflow and trading strategies to navigate these new market dynamics best.
What likely will be the watershed event for the industry?
The next significant shift in fixed income trading will be from rules-based algorithmic trading to machine learning; computers will analyze the data, determine the next trade, and execute over robust, resilient and integrated platforms. The market is already benefitting from this shift. Powerful tools like transaction cost and automated execution technology are already improving investor outcomes in rates trading, and especially in the credit market.
What changes do you expect to see regarding analytics in the new year?
We'd like to see more focus on data, and its provision in the fixed income market, which is why we've renewed and expanded our existing relationship with Refinitiv. Turnover each day in fixed income globally is vast – many multiples larger than the turnover of global equities – and more data makes for better decisions and better markets.
Is there anything that you wish would remain only in 2018?
It is the notion that markets and trading will be revolutionized overnight by a single innovation. Real change is rarely instantaneous or sweeping. Progress is very often made of small day-to-day evolutions; new rule sets, a simpler workflow, an easier way to net for interest rate risk. Patience is a virtue, if not an easy headline.