How Stepping Out of Your Comfort Zone Can Unlock New Career Opportunities
| Tradeweb Markets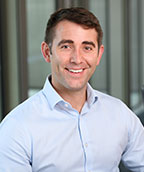 James Dale
Managing Director, Head of International Business Management, Tradeweb
This article originally appeared in The Muse here.



While most kids enjoy getting lost in fiction stories, James Dale was more interested in reading about what was happening in the world of finance. "I've always been interested in numbers, math, economics, and the market in general," he says. "I knew that was something I wanted to be a part of."
Today, Dale is the Managing Director, Head of International Business Management at the electronic trading platform Tradeweb. In the 11 years he's been at the company, Dale has made a point to raise his hand and take on new opportunities. And it's this approach that has led to Dale's accomplishments, including working in both the New York and London offices, helping launch lines of business, and earning several promotions along the way.
Here, Dale talks about the most important lessons he's learned in his career, how Tradeweb helps him achieve work-life balance as a dad, and why you shouldn't wait for opportunities to come to you.


How is your experience moving up at Tradeweb indicative of the way the company invests in its employees?
The company is great at giving you the chance to really run with ideas and make things happen. I've been very lucky as I've progressed in my career—the company has given me more space to evolve and help move the needle for Tradeweb. For example, I started within corporate development, then I had an opportunity through one of our clients to launch a new line of business eight years ago. From there I had a role overseeing the finance function, then I moved to New York and subsequently back again to London. I've been able to grow and change with the company and that's really important for me.
What are you responsible for in your current role? What excites you most about your job?
I'm responsible for business management, which means the day-to-day operations of the international business—things like automation and pricing models across asset classes, our interdealer business in Europe and connecting opportunities across different business lines. To me, the most important thing is how we link the pieces together to maximize new ideas. I enjoy that Tradeweb is so good at pulling together the best people and skill sets to explore each opportunity.
What lessons or skills have you learned over the course of your career that have helped you become the leader that you are today?
I've learned to take on new challenges with an open mind. A problem from yesterday often looks different today, whether it is because you learn new information or hear a different perspective on it. As you become more experienced, you increasingly appreciate the value of these new perspectives.
What is one misconception about working in finance and how would you respond to it?
I think there's often the idea that it's about your own individual contribution. Of course, that's important, but the way you make an impact on a larger scale is through working with others. Collaborating with colleagues and leveraging the breadth of your organization is the key to success and progress.
How do you practice work-life balance? Are there any related benefits or perks that you take advantage of at Tradeweb?
It's definitely a fun challenge for me right now with two young children. But the great thing is that Tradeweb is very flexible. The company provides you with the resources, flexibility, and autonomy to do great work in a way that works best for you and your team.
Maintaining a work-life balance is also made easier by Tradeweb's ability to recognize talent and reward employees accordingly. The company has maintained its entrepreneurial spirit even as it has grown, which means your proactive contribution is valued and recognized. We have the scale to support employees going after new opportunities, but we are nimble enough to act quickly and innovate. Bottom line: You can make a difference quickly.
What do you like most about Tradeweb's culture?
It's really collaborative. People are willing and want to help each other. More importantly, we enjoy what we're doing—it's interesting, it's challenging, and we're working with people who have the same goals, yet bring diverse ideas and backgrounds. I get to work with so many talented people and it's exciting to be on the same team.
What's the best career advice you ever received?
I've had many mentors over the years, and I think the best advice I've received from all of them is different versions of the same thing: look for opportunities that interest you rather than wait for them to come to you. That's a big thing for me—seeking out projects and finding out if there's something that piques my interest that I can then dig into.
The best way to do that is to make sure my default answer is "yes" rather than "no." Don't hide in the background; rather, put yourself forward and say, "Yes, I think I would like to be a part of solving this." As you continue to get out of your comfort zone, it becomes easier to be comfortable operating in the uncomfortable. That's helped me a lot in my career. For me, it's what keeps me motivated and engaged.
Click here to learn more about Tradeweb life.