Tradeweb CIBM Direct Link
Your Electronic Link to the Chinese Bond Market

As we continue to explore ways for overseas investors to connect to the Chinese onshore bond market, Tradeweb is the first trading platform to offer electronic request-for-quote (RFQ) trading to the access channel known as China Interbank Bond Market (CIBM) Direct.
Having taken the lead in transforming international investors' access to China's onshore bond market, Tradeweb now offers an additional direct electronic access channel via electronic trading on Tradeweb CIBM Direct Link.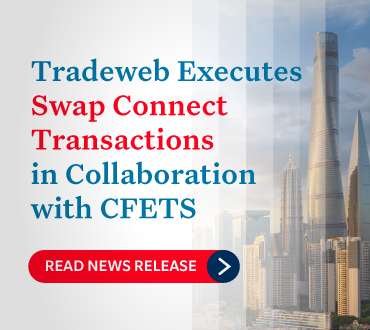 Not only does Tradeweb CIBM Direct Link deliver greater connectivity, efficiency and transparency benefits, it also provides access to a wide range of fixed income instruments in China's bond market. These include: Cash bonds in interbank market such as government bonds, People's Bank of China (PBoC) bills, financial bonds, commercial paper and medium-term notes.


Increase Access, Connectivity & Transparency
Account opening, trading and settlement conducted in the onshore market
Disclosed request-for-quote (RFQ) protocol now fully electronic
Access to CIBM market makers and participants
Benefit from greater connectivity, efficiency and transparency
In addition to cash bonds, global investors can now also access repo and IRS
Access cash bonds, e.g. government bonds, People's Bank of China (PBoC) bills, financial bonds, commercial paper and medium-term notes
Benefit from Tradeweb's fully electronic RFQ workflow:
Improved liquidity and executable size
Block allocation
List trading
Pre-trade data
Best Execution
Straight-through-processing
Reduced operational risk
OMS integration
Pre-Trade
At-Trade
Post Trade

Block Allocations

Indicative Streams

Pre-Trade Integration

Protocols

Request for Quote (RFQ)

List Trading



Advanced Trade Tools

Automated Intelligent Trading (AiEX)






Systematic Post-Trade Reporting to CFETS

Audit Trail/Compliance Records

STP to Client OMS

Asia
Open 9:00 am - 12:00 pm China Standard time
Open 1:30 pm - 4:30 pm China Standard time