Tradeweb ICE U.S. Treasury Closing Prices
The Tradeweb ICE U.S. Treasury Closing Prices ("Closing Prices") are daily reference prices for U.S. Treasury securities derived from quotes pursuant to a strict, transparent and auditable calculation methodology.
Pricing Highlights:
Coverage: 900+ U.S. Treasury securities priced daily, including U.S. Treasury bonds/notes, T-bills, STRIPS and TIPS.
Pricing: Based on trusted attributable dealer-streaming prices from dealers on the Tradeweb U.S. Treasury institutional platform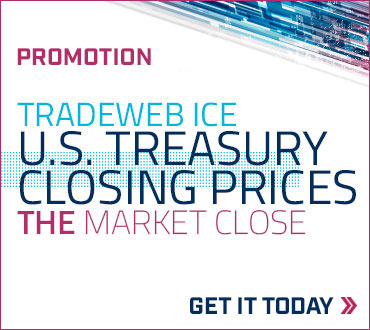 The U.S. Treasury Closing Prices are administered by ICE Benchmark Administration (IBA), which is authorized and regulated by the U.K. Financial Conduct Authority (FCA) for the regulated activity of administering a benchmark. Tradeweb handles the calculation, publication and licensing of the Tradeweb ICE U.S. Treasury Closing Prices.
IBA has published a statement of compliance with the IOSCO Principles for Financial Benchmarks in respect of the Tradeweb ICE U.S. Treasury Closing Prices, and Ernst & Young LLP has externally reviewed and provided assurance in respect of this statement.
The Treasury Markets Practices Group (TMPG) Best Practices for Treasury, Agency Debt and Agency Mortgage-Backed Securities Markets (TMPG Best Practices) also indicate that market participants should use financial benchmarks that comply with or are consistent with IOSCO Principles.
Closing prices allow you to:
Manage investment portfolios
Evaluate the fair value of securities
Perform compliance monitoring
Satisfy general accounting standards
Use as inputs in indices or evaluated pricing
Execute trade-at-close orders
The Closing Prices are published as soon as possible after 3:00 pm Eastern Time, on days when the U.S. Treasury securities market is open for trading in the United States, with an additional end of day evaluation time at 4:00 pm.
Access
A 30 day complimentary trial is available, please email referenceprices@tradeweb.com to be assisted by a Market Data representative.
To access the Closing Prices, Tradeweb users can visit our client portal, InSite.
More Information
Detailed information on methodology, calculation, governance and oversight can be found on the IBA website here.
Please read IBA's benchmark and other information notice and disclaimer here.