Precise Price Data
Our comprehensive suite of market data services provides the world's leading market participants with actionable pre-and-post trade intelligence that informs trade execution strategies and enhances business performance.
Tradeweb Composite Price
Our long-established proprietary trading composite provides precise, real-time prices derived from market activity on the Tradeweb institutional platform comprised of streaming prices from liquidity providers. Download composite overview information here.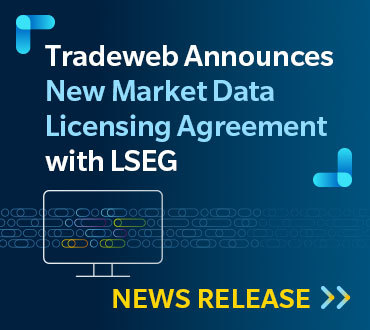 Tradeweb Global Reference Prices
Tradeweb offers a growing suite of IOSCO compliant global reference prices including:
Gilt Closing Prices: Tradeweb and FTSE Russell are the market providers of the Gilt and Treasury bill end-of-day reference prices, succeeding the previous provision by the U.K. Debt Management Office (DMO). Learn More


Euro Government Bond Closing Prices: Tradeweb and FTSE Russell are the market providers for end-of-day pricing for Euro-denominated government bonds calculated in accordance with IOSCO principles and EU Benchmark Regulation. Learn More



U.S. Treasury Closing Prices: Tradeweb and ICE Benchmark Administration (IBA) are the market providers of the U.S. Treasury Closing Prices. Learn More
Reuters Capital Markets (RCM) 19901

Comprehensive U.S Treasury data from our wholesale low latency central limit order book (CLOB) via Dealerweb exclusively powers RCM 19901, the premier pricing service for UST market participants, enabling users to retrieve up-to-date pricing, reference, and validation data, when and how they need it.
Access Tradeweb Market Data
Direct Feeds: Real time and delayed feeds via Multicast, MDServer, API and Refinitiv Eikon and other partner distributed direct feeds


Direct Distribution: Intraday, end of day and periodic cloud provider distribution (Amazon, Google Cloud, Azure); Amazon Data Marketplace


Excel Feed: Real-time and historical data delivered straight to Excel via Tradeweb MDLink


Direct Dealer Content (DDC): Streaming prices and axe data directly from dealers via Tradeweb API

Tradeweb Curves

Academic Usage
Limited usage licenses are available at low or no cost, please reach out to Tradeweb Reference Prices with your request.