Delivering a robust and reliable iNAV calculation service to the ETF market
The Tradeweb iNAV is a commercial market data service built to calculate real time indicative net asset values (iNAVs) for European listed fixed income, equity & commodity ETFs. The service has been built for issuers of ETFs, to assist them in bringing high-quality transparency on their funds to investors, support market surveillance, and to satisfy numerous listing obligations across European exchanges.
iNAVs provide intraday indications of an ETF's value based on the market prices of its underlying constituents, and are calculated and published every 15 seconds during trading hours. Robust iNAVs help increase market transparency and trading confidence by enabling investors to assess whether an ETF is being fairly priced.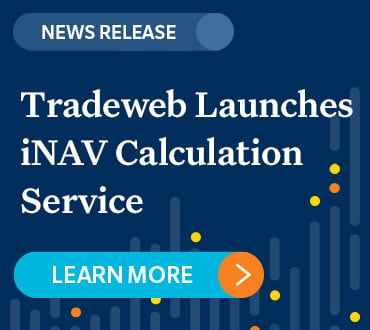 Adding Value
The Tradeweb iNAV is the result of a real-time, bottom up calculation, that identifies the value of each constituent inside an ETF, its relative weighting within the fund, and additional components like cash, and accruals, to arrive at a top-level point in time value. It approaches this result in the same way as the fund's official closing NAV, but is performed intraday.
The Tradeweb iNAV calculation for fixed income ETFs applies a waterfall methodology, prioritising live price contributions from the Tradeweb platform and includes Tradeweb Automated Intelligent Pricing (Ai-Price), which delivers advanced, algorithmic reference pricing. Where a constituent's point-in-time price is unavailable from Tradeweb, an individual price movement will be interpolated or, as a final resort, a closing price for the constituent will fill the gap.
Key Benefits
Offers price transparency to market participants through independently calculated iNAV based on real-time price inputs

Encourages confidence in ETF share trading relative to the basket value of underlying constituents

Satisfies all European ETF regulatory, market surveillance & exchange listing obligations
Click here to view the iNAV calculation Methodology.

Click here to view our disclaimer.