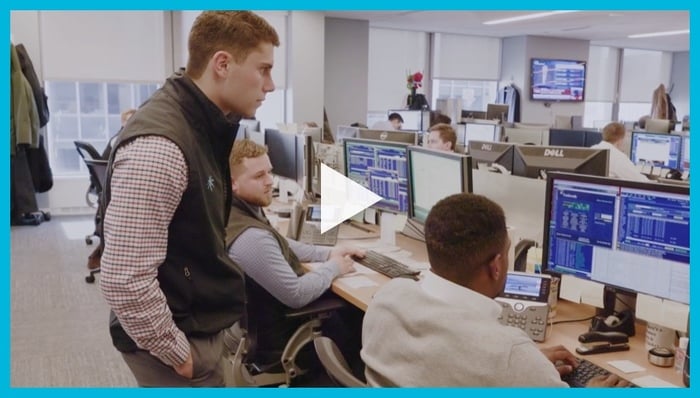 Innovating together to succeed together
Electronic marketplaces that transform your trade workflow
Innovations that make markets better.
Tradeweb is a company built on market-transforming breakthroughs—consistent and meaningful solutions created for clients' real-world needs and challenges. Whether you trade rates, credit, money markets, or equities, we can help you break through to new, more efficient, dynamic and rewarding ways to trade.
We're helping businesses like yours break through to a better trading experience.
ELECTRONIC PORTFOLIO TRADING
Redefine your approach to seamless risk transfer
We're the first platform to offer electronic portfolio trading for corporate bonds, which is rapidly becoming the new standard for fast and efficient trading in the credit markets.
Learn how portfolio trading is already reshaping the credit markets—and how it can benefit your workflow.
Read the blog
Greater flexibility. More liquidity options. Efficient execution. You get it all with our groundbreaking portfolio trading protocol.
Watch the video
INTELLIGENT AUTOMATION
AiEX: Discover a new world of strategic trading opportunities
We built our Automated Intelligent Execution (AiEX) technology to think like a trader— flexible automation that works and behaves a lot like you. Whether you're looking to improve your certainty or speed of execution, we've got trade automation for almost every type of workflow. You'll find yourself asking, "What can I automate next?"
Tradeweb's Charlie Campbell-Johnston talks to Trader TV about how automation can be used to manage trades with very different best execution objectives.
WATCH THE VIDEO
AiEX was recognized at The Trade's 2020 editor's choice awards as a Digital Initiative of the Year.
WATCH THE VIDEO
CROSS-ASSET SOLUTIONS
Change the way you trade credit.
No more back and forth with the Treasury desk. We integrated our deep pools of Treasury and credit market liquidity to revolutionize the spotting process for U.S. corporate bonds.
Find out how Multi-Client Netting is transforming the status-quo in U.S. corporate bond trading.
Watch the video
Learn how to get a better price for U.S. corporate bonds.
Read the Whitepaper
Start breaking through to better trading today.